It ain't easy to be a celebrity, right? You gotta work hard! Becoming a TOP user isn't any different ;)
To make it to Sexlog's TOP you need to gain popularity.
Interaction is the key point! That's why browsing a lot, interacting and making friends will help you. If you are popular, your friends will surely enjoy your content and like your photos, increasing your chances to see these photos featured at the TOP section.
Something to keep in mind is when you posted for the last time. More recent photos have more chances to make it to the TOP in comparison with older photos. For example, if you made it to the TOP your photo will be there for up to 3 hours. As time goes by, your score starts to go low until new ones replace your photo.
But you can be at the TOP once again! You just need to interact more with your friends and get more visits, likes and comments than you had when you made it to the TOP that day.
Let's do the math: if your score is worth half of the initial value (after the 2nd hour), you will need to double your efforts to reach the required score to be at the TOP again. After the 3rd and last hour, your score will be worth it ⅓ and you will need even more likes and comments in your new photo to gather enough points to make it to the TOP.
That's why it is so important to keep your profile updated by posting photos daily, so you are easily recognized by the users and get new fans. They will surely want to see you among the TOP ones.
Oh, and it doesn't help to ask your friends to comment several times on your new photo. Only 1 comment per user is counted for each photo. Many comments from the same profile can hold off other users, who may believe that they don't have a chance to enjoy some time with you.
Remember: once you made it to the TOP on that day, you will need to generate much more buzz in your network to make your score go high again and reach the TOP once more.
Will you take the challenge?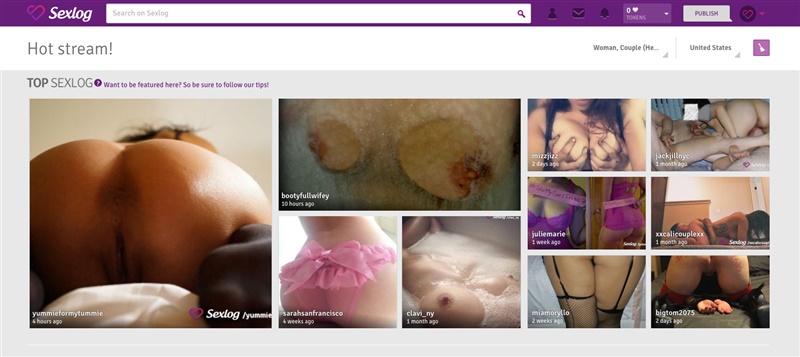 There are many people posting creative and hot content on Sexlog, who are getting the users' attention. So, spread your content by posting at different times of the day to guarantee more visibility. The TOP users are dynamic and always update their profiles throughout the day. If you post in the morning, in the afternoon and at night your chances to be among the TOP users will increase. The content rules it! Take sensual, creative, interesting and high quality photos. Users love when you take hot photos that drive them crazy.
Customized Top Section
Who are the best ones in all that you like and search for?
To satisfy you and deliver always the best content while connecting you to the type of people you're looking for, Sexlog is offering a feature in your Settings to generate a list of TOP users that is made just for you.
It's very easy: you choose your interests and filter just profiles among the top in the gender and/or state chosen.
That's great, isn't it? When you log on to Sexlog you will see all the TOP users according to what you're looking for. That will make your interaction with the hottest, most popular and interactive users in the website even easier!
And if you are one of the TOP users in your area, you'll be featured for the users interested in finding people there. You'll also get the TOP badge for making it there! Invest some time in your content. Take high quality photos and videos and become a TOP user!